About Heavenly Cuisine Custom Catering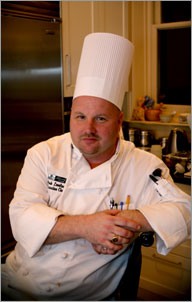 Chef Mark Loveland is more than just the sum of his 36-plus years of culinary experience. He married his wife, Barb, in 1985 and they have three children, Lauren, Ryan and Steven as well as four grandchildren. They live in Glenshaw, PA. Mark has worked in a variety of positions within the foodservice industry in his career, from working as an Executive Chef for Marriott International, to opening and leading commercial dining facilities in large hospitals, to touring with the Professional Golf Association and catering for its world-class golfers.
Mark eventually opened his own business and it soon became "Heavenly Catering," the forerunner to "Heavenly Cuisine Custom Catering". He enjoys cooking for family, friends, and groups of all sizes. "The satisfaction you get from cooking and serving someone a truly great meal is hard to match. I can't imagine doing any other kind of work. This is my calling," says Mark.
Mark is also passionate about singing and music. He sings in a local choir and also performs around Pittsburgh with a popular barbershop quartet. Mark and Barb regularly attend the theatre in Pittsburgh's cultural district and he is a Member of the Shaler Area Performing Arts Alliance.
Mark's passion for his own business, and his love for teaching and helping others, carries over into his networking activities. He is an active Member of Business Network International (BNI) in its GroundBreakers Chapter in Allison Park, PA and he is also a Member of the Greater Pittsburgh Chamber of Commerce. Find out more about how Mark works.
---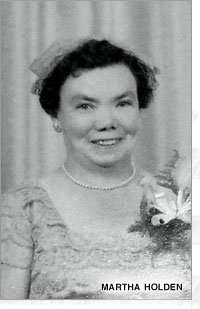 When Mark was around seven years old, his Grandmother, Martha Holden, was among the most influential people in his life. Mark's mother was the youngest of seven children, an he was one of the youngest of 29 grandchildren. His grandmother never forgot any family birthday – and with so many family members, there was bound to be a celebration nearly every week of the year. She cooked for every holiday and special event.
Standing a demure 4'10", Mark remembers she was a gentle woman, but her strength lay in getting her family of anywhere between ten and forty members together every week for Sunday dinner. She was always in the kitchen, always cooking or baking something wonderful. Everything she made was from scratch and she never consulted a recipe.
Martha Holden was first, Mark's grandmother, but, in hindsight, she was also his original mentor. She taught him how to cook a number of different recipes.
The most important thing that Mark's grandmother taught him was about the power of food to form bonds between family and friends. Mark was 12 when his grandmother passed away, taking many of her cherished secret family recipes with her.
Ask him today and Mark will still smile, gazing off into the distance, as he recalls his grandmother's plum pudding – a recipe he still hasn't come close to duplicating – that, and the scratch pie crusts she made with just a dash of vinegar to surprise the taste buds and perfectly balance the sweetness of any dessert.
Mark's grandmother inspired him to care for others. She taught him how to express his passions through fantastic food. He learned to create bold, surprising combinations of flavors and to teach others how to love the full expression of the food they eat and it is this mission he continues today, these many years
---
The Beginning of Heavenly Cuisine Custom Catering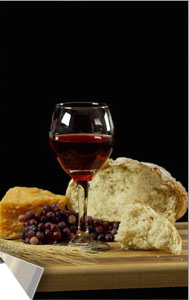 Heavenly Cuisine Custom Catering began as a small catering venture in 2004. At an early event, Chef Mark met Erma, a lively, beautiful woman of some 80+ years. In the moments they spoke, Erma told Mark: "Your food is just heavenly! When I die, I want you to cater my wake." They laughed at the thought, though she insisted she was serious.
All too soon, Mark received an unexpected call from Erma 's daughter, relating that she had, in fact, passed away. Erma's daughter shared the the promise that she'd made to her mother; that Mark would cater her wake. Naturally, Mark obliged. To honor Erma's memory, he named his company "Heavenly Catering" and did a good bit of business.
Then came 2008 and the world changed. The economic crisis caused by the collapse of the housing and financial markets rolled into Pittsburgh.
Suddenly, businesses and organizations that had previously hosted regular catered events had scaled back. Events got smaller. People started looking for cheaper catering solutions and they found them everywhere — at the expense of quality.
Staying true to his roots and his philosophy of providing great food at a fair price to people who love to eat, Mark partnered with a Pittsburgh-based firm to re-brand his company.
The new brand message would underscore luxury, quality, and the customization he'd built into his product. The new name "Heavenly Cuisine Custom Catering" best describes the quality of the food mark prepares, while also distinguishing himself from other caterers, as he customizes every event's menu.
---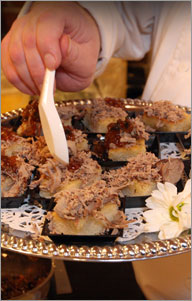 Heavenly Cuisine Custom Catering maintains a high standard for what "excellence" means. If each guest doesn't love the food we make and serve, we've missed something. It's not enough to give people what they want; we measure our success by how well we've exceeded our guests' expectations. And we ask them. Then, we listen.
We hope our guests leave an event remembering more than just great food and service. After all, that should be expected, right? Sadly, many catering companies fall woefully short.
We work hard to ensure that our guests leave happy and fulfilled, but we want them to also take away great memories of sharing a wonderful experience with people they love.
Many of our most powerful memories involve great meals with those we love. We can remember exactly where we were, who we were with, and even what the food we ate looked like, smelled like, and tasted like.
This is a natural function of our biology; to remember the good and the bad; to learn what we like and to seek more of it, while avoiding those things that we don't like.
At Heavenly Cuisine, we work with fresh ingredients, prepare them artfully, present them impeccably so that it can be enjoyed as more than mere sustenance; food should be savored and experienced; nourishment for the soul, as well as for the body.
This is cuisine and it's about more than food: it's about love. For us, there is no greater satisfaction than knowing that we've fed someone and communicated our passion for good, fresh, wholesome food, prepared with love and served with kindness. It's our mission to enable more people to love to eat.
Learn About Our Process