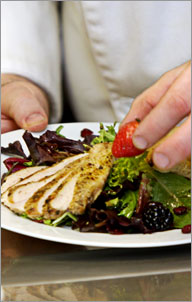 We don't have menus available when you call. Why is that? We don't cook the same thing for every client, for every event, day in and day out. That would bore our guests and it would bore us.
We invest the time learning about each and every client and their ideal event, no matter its purpose or number of attendees.
Menus are not our starting reference point. Rather, they are the result of our detailed consultation. A good menu is nothing more than a document detailing an event's fine foods, all of which underscore its purpose are complementary to its guests.
Through our client interview process, we discover the foods that our clients love, as well as foods they don't like at all.
We discover information about food allergies, dietary restrictions and ethnic preferences. We also work very hard to understand the underlying purpose and intended outcome for the event and to get an idea of the invited guests.
We use the freshest available ingredients to prepare our food; not because it's trendy today, but because we're sticklers about the final product.
Fresher ingredients look, feel, and taste better. It's the right thing to do, out of respect for the love of great food.
We invest time learning the details of our client's wishes for their event; the look, feel, sights, sounds and smells. By paying attention to the sensory details, we can be sure that our contribution to the event helps our clients achieve overall success.
What Events Do We Cover?